WorldPeace commentary on the news&nbsp: 2003

Return to The WorldPeace Peace Page

COMMENTARY ON THE NEWS by John WorldPeace
Do you think that I have come to bring peace to the earth; I have not come to bring peace, but a sword. For I have come to set a man against his father, and a daughter against her mother, and a daughter-in-law against her mother-in-law. Jesus - Matthew 10:34
The truth is often paradoxical. Lao Tzu - Tao te Ching
December 12, 2003 Less than two pages in length, the Ayalon-Nusseibeh plan calls for an Israeli withdrawal from essentially all of the West Bank and Gaza and for an "open city" of Jerusalem to be the capital of both states. Palestinian refugees would be compensated from an international fund, but have a right to return only to the new Palestinian state. Mr. Nusseibeh said the plan complements the "road map" and unlike the international peace effort prescribes solutions to the most-intractable "final status" issues of the Middle East conflict. He said while neither he nor Mr. Ayalon are major political figures, their grass-roots petition campaign has attracted 200,000 signatures, two-thirds of them from Israelis, and could grow to the point where it cannot be ignored by the Israeli and Palestinian leaderships.
December 12, 2003 But here's what's surprising: So far, the biggest political fallout from the Iraq war has not been in the Arab world. It has been in Israel. Say what?
Yes, by destroying Saddam's regime and the real strategic threat posed to Israel by Iraq, the Bush team has taken away one of the strongest security arguments from Israeli hawks: that Israel needs to keep the West Bank, or at least troops on the Jordan River, as a buffer in case Iraq again tries to come through Jordan to strike Israel, as it has done before. As long as Iraq loomed as a major threat, one could hear three arguments in Israel. One said no withdrawal from the West Bank and Jordan River was possible because Israel needed a security buffer. Another said withdrawal was essential to maintain Israel as a Jewish democracy. Because if Israel kept control of the occupied territories, there would soon be more Arabs than Jews living in the West Bank, Gaza and Israel. A third said that no withdrawal was tolerable because the Jewish state needed to control all the Jewish land, including the Biblical West Bank. The Israeli right has tended to blend the security and the Jewish land arguments, while the Israeli left has focused on the need to maintain a Jewish majority so Israel doesn't become an apartheid state. But with the Iraq threat now gone, the argument is increasingly between those on the left and center who want to get rid of the territories to preserve Israel as a whole Jewish state and those on the Israeli right who want to preserve Israel on the whole Jewish land. Canada, Germany, France, Mexico, China and Russia are among countries excluded from bidding on $18.6 billion worth of Iraqi reconstruction contracts funded by the U.S. government. U.S. Deputy Defense Secretary Paul Wolfowitz released the list of 63 approved countries yesterday.
December 10, 2003 The Pentagon drew criticism from one U.S. ally after formally barring companies from countries opposed to the Iraq war from bidding on 26 reconstruction contracts. The ruling bars companies from U.S. allies such as France, Germany and Canada from bidding on those contracts - worth $18.6 billion - because their governments opposed the American-led war that ousted Saddam Hussein's regime. "If these comments are accurate ... it would be difficult for us to give further money for the reconstruction of Iraq," said Canada's deputy prime minister, John Manley. "To exclude Canadians just because they are Canadians would be unacceptable if they accept funds from Canadian taxpayers for the reconstruction of Iraq."
November 17, 2003 Raped by her brothers and impregnated, Rofayda Qaoud refused to commit suicide, her mother recalls, even after she bought the 17-year-old a razor with which to slit her wrists. So Amira Abu Hanhan Qaoud says she did what she believes any good Palestinian parent would: restored her family's "honor" through murder. Armed with a plastic bag, razor and wooden stick, Qaoud entered her sleeping daughter's room last Jan. 27. "Tonight you die, Rofayda," she told the girl, before wrapping the bag tightly around her head. And so it is all around the world. Women are second class citizens. A reality that crosses all racial lines and all forms of government. Until there is equality for women, true peace and WorldPeace will remain elusive.
Where does legitimate criticism of Israeli government policy end and anti-Semitism begin? There's always been sharp disagreement in Israel over where to draw the line, but the debate assumed greater urgency in recent weeks. First, the Malaysian prime minister claimed that Jews dominate Analysis the world, to the applause of Muslim heads of state. Next, a poll found 59 percent of Europeans consider Israel a threat to peace, ahead of rogue nations such as North Korea. And last week, Greek composer Mikis Theodorakis, in condemning Israeli actions in the West Bank and Gaza Strip, called Israel "the root of evil." Five soldiers were injured and one was missing, the military said. One helicopter smashed into the roof of a house, witnesses said, and there were reports one of the aircraft was shot down. As the U.S. death toll in Iraq passed the 400 mark, the Iraqi Governing Council endorsed a U.S. plan Saturday that would create a provisional government by June. The transfer of power would provide Washington an "exit strategy" in the face of escalating guerrilla warfare. I guess our soldiers were killed by some of those "weapons of mass destruction that Bush never found."

---

"We did the same thing in Beirut. We made a commitment and the first time we took casualties we ran," Brady said. "We did it in Somalia. The first time we started taking casualties we ran. We're getting a reputation, and the terrorists know that we run when we take casualties."

"What we're feeling is that same schism of wanting to support our troops and wondering why the hell are we there."

---

Defense Secretary Donald Rumsfeld insisted: "We will stay there as long as necessary." Yet history indicates a different outcome. Ever since the Vietnam War the spectre of body bags arriving back in the US has haunted successive presidents. When a Hezbullah suicide truck crashed into a marine base in Lebanon in 1983, killing 241 marines, the US lost the will to win, and a year later pulled out its troops. It did so again after the infamous ?Black Hawk Down? incident in Somalia in 1993 when the US lost two helicopters and 18 soldiers while hunting for a warlord. But this time the Americans cannot simply cut and run. They cannot extract themselves until they have at least established a viable security apparatus. In addition to their pledges to the Iraqi people there are imperative geopolitical reasons. Iraq is too strategically important to be left to its own devices. What happens in Iraq is vital for Israel and Palestine, Saudi Arabia, Syria, Turkey and Iran. And Iraq has the world?s second largest reserves of oil. What is poor George to do?
President of the United States George W. Bush as King of Diamonds is part of a card deck depicting 'the 52 most dangerous American officials', sold by the French group Reseau Voltaire (Voltaire Network) is seen in this hand out photo. Caption under photograph reads : 'Head of a baseball club and director of Salem bin Laden's oil company (brother of Osama). Designated President of the United States by friends of his father at the Supreme Court before the vote count showed that he lost the elections'. A little over 2, 500 decks have been sold on the internet in recent weeks. (AP Photo/Reseau Voltaire)
The problem is that until there is one person who can speak for all these peace organizations, these protests will continue to have little or no impact on the war mongers of the world.
Fernando Suarez, whose 20-year-old son, Jesus, was one of the first fatalities, said: "My son died because Bush lied."
In an interview with the Associated Press, Kennedy also said the Bush administration has failed to account for nearly half of the $4 billion spent each month for the war. He said he believes much of the unaccounted-for money is being used to bribe foreign leaders to send in troops.



Archive of WorldPeace 2003 commentary - January through June
Archive of WorldPeace 2002 commentary

Return to The WorldPeace Peace Page

How can we manifest peace on earth if we do not include everyone (all races, all nations, all religions, both sexes) in our vision of Peace?
---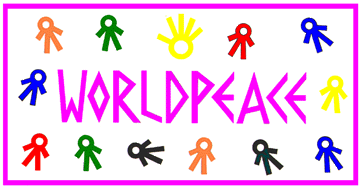 The WorldPeace Banner

The WorldPeace Insignia : Explanation

To order a WorldPeace Insignia lapel pin, go to: Order
To the John WorldPeace Galleries Page

To the WorldPeace Peace Page