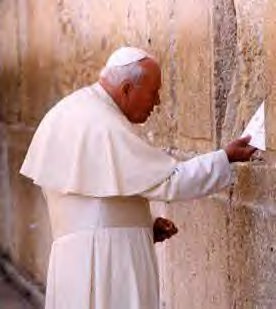 During a tour of the Holy Land in March 2000, Pope John Paul II visited the Wailing Wall and put a prayer request in the wall of this Roman Fort!!
---
The pope speaks on Christmas but says little
The old pope spoke his traditional Christmas message today but he did not really take a stand on how Christians should end the AIDS pandemic in Africa, Asia, and China. He did not charge Catholics all over the world to be more tolerant of other religions. He did not ask Catholics to be prepared to give more money to the church in the coming year as millions are expected to starve to death all over the world due to global warming and the Catholic church is committed to focusing some of its billions on solving the problem. He did not point out that a war in Iraq is in reality a war for oil. He did not reach out to Muslim terrorist leaders to meet with him so that he could help mediate the coming Christian Muslim war. And he did not encourage Catholics to practice birth control in order to relieve the suffering in the world due to over population.
The old pope with his undeniable influence over almost a sixth of the world's population really didn't say much this Christmas. The church is remaining politically uncommitted as the world struggles with war, famine, and plagues. The four horsemen of the apocalypse are here!
So what would Jesus do? What would Jesus say if he were here today?
The answer is really simple, "I am the poor, I am the sick and I am the victim of unjust wars. What you do to others, you do to me. At the end of your life, will you be able to say you were a part of the global solution or a part of the problem. As you come to me at the end of your life, will my tears be those of joy at your caring works and deeds or sadness that you never understood that all you had was nothing more than a gift from me to you; and one that you never felt a need to share."
John WorldPeace
December 25, 2002
---
In a troubled world, pope urges peace at Christmas
25 December, 2002 13:55 GMT+08:00
By Philip Pullella
VATICAN CITY (Reuters) - In a world worried by possible war in Iraq, Middle East violence and North Korean nuclear arms, Pope John Paul said on Wednesday Jesus's message was one of peace and hope in times of conflict and suffering.
Leading the world's Roman Catholics into Christmas, the pope, looking tired but resplendent in gold and white vestments, told a midnight mass broadcast live to tens of millions of people: "Jesus is born for a humanity searching for freedom and peace."
The message of hope was echoed by Christians at church services around the world, even as the United States stepped up preparations for war in Iraq and worshippers in Asia were nervous over possible fresh acts of terror by Islamic militants.
Christians in Muslim countries in Asia flocked to churches for services that have so far passed off peacefully despite concerns over bomb attacks. Police have considerably tightened security in the run-up to Christmas.
In Latin America, several thousand people opposed to Venezuela's President Hugo Chavez prayed for peace during an open-air mass in Caracas as a strike kept a stranglehold on the nation's vital oil industry.
In a dreary, rainy Bethlehem, the Vatican's senior representative in the Holy Land issued an appeal in a midnight mass for freedom for Palestinians from Israeli occupation.
Speaking in French to a packed congregation in the Roman Catholic Saint Catherine's church, adjoining the Church of the Nativity where by tradition Jesus was born, Patriarch Michel Sabbah said in a message to Israelis:
"Blood has been flowing in your cities and streets, but the key to solving this conflict is in your hands. By your actions so far, you have crushed the Palestinian people but you still have not achieved peace."
ARAFAT'S EMPTY CHAIR
Palestinian President Yasser Arafat was but a ghost of Christmas past at the mass, his empty chair a symbol of holiday gloom in a town ringed by Israeli armour.
Sabbah, himself a Palestinian, addressed the empty chair which Arafat -- although a Muslim -- has occupied in the past before Israelis banned his presence for a second straight year.
"We wish you were with us tonight, and we call on God to give you the wisdom and the power under this siege to continue your mission toward peace and justice," Sabbah said.
At the Vatican, the pope's voice seemed a bit hoarse during the midnight mass ceremony attended by more than 10,000 people in St Peter's Basilica.
"He (Jesus) is born for everyone burdened by sin, in need of salvation, and yearning for hope," the pope said, celebrating the 25th Christmas season of his reign as head of the world's one billion Catholics.
Standing at a flower-bedecked altar, the 82-year-old Polish pontiff said Christmas night, celebrating the birth of Jesus, was a night of faith, love and hope.
Children from Africa, India, Italy, South Korea, Ecuador, Canada, Poland and China offered symbolic gifts to the pope as the Sistine Chapel choir sang in Latin and Italian.
ASIA PEACEFUL
In Indonesia, Christians packed churches across the world's most populous Muslim nation.
The mood was festive but tinged with sombreness in the wake of the violence that has bedevilled Indonesia, such as church bombings two years ago that killed 19 people and the Bali bomb attacks in October that left almost 200 dead, mostly foreigners.
"It should be that Christmas does not make people scared like it does these days. It seems that anywhere we go, we are full of fear," priest Yong Ohoitimur told worshippers at a church in Manado, a predominantly Christian city in Indonesia's east.
While Indonesia has been peaceful over Christmas, a bomb in the volatile southern Philippines on Tuesday killed 13 people including a Muslim town mayor and several of his colleagues.
Security forces in the Philippines, a Roman Catholic nation of 80 million people, were on high alert on Wednesday for attacks on crowded churches and malls by Islamic militants.
In Muslim Pakistan, up to nine people were wounded on Tuesday by a small explosion near a hotel in the city of Rawalpindi, close to the capital Islamabad, officials said.
Britain had warned its citizens to avoid churches in Indonesia. The United States and Australia had earlier urged its nationals of fresh terror attacks during the holiday season.
Many Christians, a large minority in Indonesia representing about 10 percent of the country's 210 million people, praised the police and military for the security blanket.
"The heavy security helps make us feel safer, but speaking of death, it can take place anywhere. It doesn't have to be in a church," said 31-year-old businessman Andi Suwandi in Jakarta.
---
Pope Appeals for Peace
by Frances D'Emilio AP
VATICAN CITY (Dec. 25) - War must and can be avoided even in a world made fearful by terrorism, Pope John Paul II insisted in a Christmas message that stepped up the Vatican's campaign against a war in Iraq.

''May humanity accept the Christmas message of peace!'' he declared Wednesday.

Thousands of tourists and pilgrims stood in a light drizzle at St. Peter's Square to hear the ailing pontiff deliver his annual Christmas Day message, ''Urbi et Orbi'' - Latin for ''to the city and to the world.''

They screamed and clapped in delight when John Paul, wearing gold-colored robes, was driven in a white, open-topped vehicle through the square, past a life-size nativity creche and a towering Christmas tree.

The 82-year-old pontiff's voice sometimes trembled and his words often slurred as he read his speech from the central steps of St. Peter's basilica.

''From the cave of Bethlehem there rises today an urgent appeal to the world not to yield to mistrust, suspicion and discouragement, even though the tragic reality of terrorism feeds uncertainties and fears,'' the pope said.

John Paul deplored the ''senseless spiral of blind violence'' in the Middle East and called on the world to ''extinguish the ominous smoldering of a conflict which, with the joint efforts of all, can be avoided.''

Although he did not mention Iraq by name, the pope's comments reflected the Vatican's widely known opposition to U.S. plans for a possible attack on Iraq.

When a U.S.-led coalition prepared to invade Afghanistan last year in response to the Sept. 11 attacks, Vatican officials said there was a moral right to defend the common good against terrorism.

But in recent weeks, the Vatican has said repeatedly that Catholic teaching does not consider ''preventive'' strikes a justification for taking up arms.

The Bush administration insists Iraq is harboring weapons of mass destruction, and he has been lobbying for international support for a possible attack.

The Vatican fears an unprovoked attack on Iraq could unleash an anti-Christian crusade in the Muslim world.

The pope's remarks Wednesday recalled his words in 1991 after Iraq invaded Kuwait. His comment then that ''war is an adventure with no return'' became a slogan of pacifists opposing the Persian Gulf War.

John Paul also used his Christmas message to express concern for Latin America, roiled by economic and social turmoil, and for Africa, plagued by ''tragic internal conflicts'' and famine.

Renovation work on the basilica's central balcony forced the pope to break with tradition and deliver his Christmas message from the steps in the square.

Bowing to health problems and difficulties in walking, John Paul abandoned another Christmas Day tradition a few years ago. He no longer says midmorning Mass in the basilica, allowing him a few more hours of rest following his heavily attended celebration of midnight Mass on Christmas Eve.

The pope, however, did manage one of his favorite Christmas traditions - wishing the world a joyous holiday in 63 languages.

His voice seemed to gain strength as cheers went up from pilgrims when they heard the greetings in their own languages, and he began joking with the crowd.

''John Paul II loves you!'' he called out in English. He also bantered in Spanish to the delight of thousands of pilgrims from Spain and Latin America.
---
How can we manifest peace on earth if we do not include everyone (all races, all nations, all religions, both sexes) in our vision of Peace?
---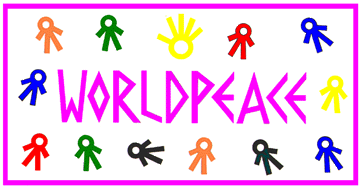 The WorldPeace Banner
To the John WorldPeace Galleries Page

To the WorldPeace Peace Page