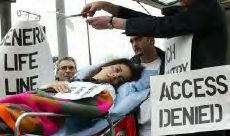 Demonstrating against the policies of drug companies, a protestor symbolically cuts the tube to a female patient receiving intravenous aid during a protest action outside the WTO building in Geneva, Monday. Talks failed Friday to resolve differences between the US and developing countries over access to essential medicines. (AFP photo)...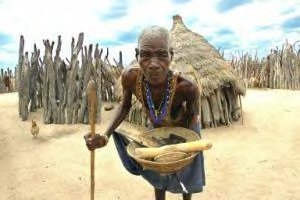 Namibia - Ninety-year-old Albertina is forced to look after her grandchildren, after their parents died from Aids. It is world Aids Day on December 1. As on every other day this year, more than 8,000 people will die of Aids and there will be 14,000 new HIV infections. (AFP photo)...
---
December 1, World AIDS day. Drug companies sell life for money: advocate pain, suffering and death for the poor. WWJD
The most important ethical and moral problem that presently exists in the global society is the question of whether or not nations should provide AIDS drugs to the poor. And if they do, how much money are the drug companies who developed these drugs going to be allowed to make in profits.
Canada has warned the drug companies that they will either make the drugs available at reduced rates or Canadians will begin to produce generic substitutes.
What is to be done with the incredible miracle that the drug companies have created with the new range of AIDS drugs. And who can doubt that without a profit incentive, those drugs would have never been developed.
So what is going to be the trade off? How much profit should they be allowed to make? How can drugs that cost $10,000 in the USA be made available to people around the world who make $1,000 per year?
And if those drugs can be bought in India for $300, why should Americans pay $10,000.
It would seem to me that those who make the drugs should be allowed a certain level of profit. After that, there should be a reduction. In the case of a worldwide epidemic, it would be nice if all the countries in the world set up a fund to develop these drugs. But then there would be arguing over who would be designated to work on the project with each nation demanding a place for its scientists based on its contribution.
The other possibility is that the UN buys the patent on the drugs. This becomes tricky because the more AIDS is allowed to advance, the more the drug is worth. Isn't this a sick situation; a company would limit the availability of the drug on the market for the purpose of increasing the market through an expanding infection rate among the world population. And this is the paradox of global ethic and morality.
Government has a very poor history of creating anything unless one looks at the space program. If we could just funnel some of the kill Saddam money into a commitment to slowing down and ending the AIDS epidemic, miracles would happen.
But then there is the peripheral question of over population. The world needs to thin out its population and now, according to many fundamental religionists, God is taking care of the problem with a plague of global proportions. Under this mind set, there is no need to be concerned about providing drugs to anyone.
The world seems to be more civilized but in truth the primal nature of human beings permeates everything. In the end, it is survival of the fittest. In the end, the survivor religionists say that God loves them; right up to the time of the final judgment preached by fundamental Christians. At the final accounting, Jesus will ask the condemning question: "What did you do to stop the suffering caused by AIDS ?"
John WorldPeace
November 30, 2002
---
WTO Negotiations on Drug Access Stall

The Associated Press, Fri 29 Nov 2002

GENEVA (AP) — Negotiators failed Friday to resolve differences between the United States and developing countries over access to essential medicines, but hoped to renew efforts in early December, trade officials said.

``Delegations need time to take stock of the situation and to consult in capitals,'' said Eduardo Perez Motta of Mexico, chairman of the World Trade Organization negotiations.

Perez Motta urged delegates to show more flexibility when talks resume in the coming days.

The United States, which wants to protect its pharmaceutical industry patents, said it remained committed to supporting poor countries' access to drugs to fight epidemics but opposed extending an accord to other health issues.

``Everyone needs to keep their eye on the ball,'' said U.S. Ambassador Linnet F. Deily. ``Our goal here is to fight the scourge of AIDS and other epidemics.''

The African group, supported by other developing countries, expressed disappointment at what they described as proposals that would narrow the accord reached at a meeting of trade ministers in Doha, Qatar, last year.

At issue are the WTO rules on intellectual property. The Doha meeting recognized the right of WTO members to override patents on expensive Western drugs and make the products themselves when public health is at stake.

However, drugs made under such licensing were to be used domestically, not exported. That meant a country without a drug industry was no better off because it could neither make the drugs nor buy them from another country.

Delegates aim to resolve the differences by year's end. Perez Motta said he would like to have an accord ready for the major WTO meeting Dec. 10.

Trade officials said the breakdown in talks was commonplace during complex issues, but that progress had been made because delegations now understand each other's positions.

``As I have always cautioned, the devil is in the detail, and this is indeed what we have found,'' said Perez Motta.

Although there is general agreement that the least developed countries should be given access to cheap generic drugs, there is no consensus on whether this right should be bestowed on wealthier developing countries such as Singapore, South Korea and Taiwan.

There is also no agreement on whether to drop the usual patent protection just for specific diseases such as HIV/AIDS, tuberculosis and malaria — as the United States wants — or for all diseases including cancer and diabetes. Another difference is whether the relaxed rules should cover public health or be restricted to emergencies like epidemics.
---
World Aids Day tackles discrimination

swissinfo November 29, 2002 8:18 PM

It is World Aids Day on December 1. As on every other day this year, more than 8,000 people will die of Aids and there will be 14,000 new HIV infections. Fighting discrimination is the focus of the 2002/2003 campaign. "You won't get Aids just by talking about it," is one message seen on posters across Switzerland. This year's message is that the impact of stigma can be as detrimental as the virus itself Rise in HIV blamed on complacency

Prejudice can take a variety of forms from Swiss insurance companies who refuse to cover sick pay for people with HIV/Aids, to countries which refuse entry to sufferers.

"Ignorance, misunderstanding and prejudice makes life difficult and favour the spread of the disease," said Ruth Rutman, director of the Swiss Aids Federation.

Stigma According to UNAids, 42 million people are now living with HIV worldwide. Five million were newly infected in 2002 and 3.1 million people were killed by Aids this year.

"The impact of stigma can be as detrimental as the virus itself," said UN secretary-general, Kofi Annan in his World Aids Day message.

"Some people with Aids are being denied basic rights such as food or shelter, and dismissed from jobs they are perfectly fit to perform.

"They may be shunned by their community or by their own family. The fear of stigma leads to silence and when it comes to fighting Aids, silence is death."

Sick pay

Some Swiss insurance companies have refused to provide sick pay insurance to people with HIV. They have also tried to delay paying pensions to people forced to retire early and raised difficulties with invalidity insurance.

"The main difficulties are concerned with insurance," Caroline Suter of the Swiss Aids Federation, told swissinfo. "The other problem is with the protection of personal information.

"At work, the employer and the co-employees often become aware that someone is HIV-positive or has Aids and this gives rise to discrimination and the employer has no right to ask this question or get to know this information."

The Swiss Aids Federation has been working with the trade unions and employers to try to tackle these issues.

"We feel that people are not aware of the problem," Rutman told swissinfo. "Instead of fighting against the illness, they fight against the people who have that illness.

"We have to make sure that this changes not only in Switzerland but worldwide. In Switzerland we know where we can fight and where we can get results.

"We see it at the workplace, we see it in connection with insurance and we see it especially with data protection."

Nearly 100 countries around the world have restrictions on entry or length of stay for people who are HIV-positive. Some forbid entry altogether including Iraq and the United States.

Daniel Biedermann, director of the Swiss Red Cross, told swissinfo that discrimination can actually lead to the spread of Aids.

He said it created a climate in which it's difficult to talk about the disease and in which sexual partners risk transmitting HIV because they are afraid to reveal that they might be infected.

Biedermann said the Swiss Red Cross was participating in this year's campaign because the spread of Aids had a humanitarian dimension as well as a health and social one.

The international Aids day campaign, conceived by the advertising agency, Saatchi and Saatchi, can be seen on public transport in the larger Swiss cities.

Regional activities include concerts, theatre and street events.

swissinfo, Vincent Landon
---
Funerals, Hope mark World AIDS day
by Andrew Quinn, Reuters
JOHANNESBURG (Dec. 1) - Millions of people around the globe marked World AIDS Day on Sunday with marches, prayers and hope amid grim statistics that show the epidemic outpacing all efforts to control it.

In China, officials instructed one million students to launch a new national AIDS awareness campaign while in Britain, health experts warned of a startling spike in new infections, and in South Africa -- the country worst hit by the disease -- activists held a mass funeral for babies.

''We pay tribute to all the children who have passed away in our care,'' said Jackie Schoeman of the Cotlands Baby Sanctuary, which held a ceremony Sunday in Johannesburg to inter the cremated ashes of some of the littlest victims.

Sunday's World AIDS Day activities highlight how dangerously the disease has spread since it was first detected among homosexual men in the United States in 1981.

Estimates released by the United Nations last week indicate that more than 40 million people worldwide are infected with HIV, the virus which causes AIDS, the vast majority of them in sub-Saharan Africa.

AIDS will have killed 3.1 million people by the end of this year, while five million more will have been infected, UNAIDS said in its report.

Ominously, the virus appears to be both spreading into regions which could transform the epidemic into a truly global disaster and developing resistance to AIDS-fighting drugs, complicating the quest for a vaccine.

Eastern Europe and Central Asia, with 1.2 million cases, now show the fastest growing epidemics, while officials fear that China and India are AIDS time bombs.

WOMEN VICTIMS

Already an estimated one million Chinese are infected with HIV and the United Nations said the number could reach 10 million people -- equivalent to the entire population of Belgium -- by the end of this decade.

Worldwide, half of those infected are now women, the report says, meaning more babies could become infected through their mothers.

In New York City, where the gay community suffered the first major U.S. outbreak of AIDS more than 20 years ago, a World AIDS Day rally emphasized the disease's spread to every community.

''It's time to stop the denial, the partying and the pretension: AIDS kills gay, lesbian, bisexual, transgender and straight people,'' said Doneley Meris, who helps run mental health and social services for people living with HIV and AIDS.

And in San Francisco, where the gay community was also devastated by the disease, AIDS activists honored victims of the deadly illness with a ceremony at Golden Gate Park's National AIDS Memorial Grove.

''Anyone who has been touched by HIV or AIDS either through their own infection or through loved ones is invited to find remembrance and renewal through Sunday's commemoration,'' said Gary Pike, co-chair of the National Aids Memorial Grove.

To see what damage AIDS can do, one has only to look at southern Africa, where almost 30 million people are already infected with the disease.

Food output is falling, due to drought and the fact that agricultural workers are dying. Millions of children have been orphaned by the disease. Cemetery space is running out, average life expectancy is falling and billions of dollars are being chopped from the region's already fragile economies.

''There is no longer a distinction between those living with HIV/AIDS and those who are not,'' South African Deputy President Jacob Zuma said in the government's official World AIDS Day speech Sunday. ''We are all living with the disease and are affected by it in many ways.''

Treatment, now limited to expensive and complicated cocktails of anti-retroviral drugs, reaches only a tiny handful of AIDS sufferers who need it.

Fear and prejudice stalk victims of the disease, who are often ostracized from community support networks at their moment of greatest need. And awareness of the disease lags, despite massive efforts to educate people about how it is transmitted and how to avoid it.

China, long criticized for its sluggish response to the threat, launched a new round of awareness and prevention campaigns Sunday, taking on social taboos on talking about sexual activities in public.

'MOVING IN THE WRONG DIRECTION'

At Beijing's Great Hall of the People, China's political center, the government launched a national campaign for students to spread out into the countryside to educate people about the disease and denounce discrimination against victims.

In a sign that developed countries may be in for another AIDS shock after seeing new cases decline in recent years, British officials said this week that the country was likely to have a 20 percent increase in new HIV cases this year -- a number twice that reported at the end of the 1990s.

''We are moving in the wrong direction and that is extremely worrying,'' said Dr Barry Evans, a health expert at the Public Health Laboratory Service which monitors infectious disease.

Officials point to some hopeful signs, including some successful AIDS awareness campaigns in Africa and moves by drug companies to slash the price of anti-AIDS drugs.

But treatment, even when it is available, is always going to be the most expensive option.

UNAIDS calculates that by 2007 the world will have to find about $15 billion a year to treat and combat AIDS in low and middle income countries -- but contributions to the new Global Fund designed to spearhead anti-AIDS work are lagging.

Former U.S. President Bill Clinton, who heads an international anti-AIDS group with former South African President Nelson Mandela, said governments must push drug companies to provide medicines at discount prices and allow poor countries to buy generic drugs.

''Given that medicine can turn AIDS from a death sentence into a chronic illness and reduce mother-to-child transmission, our withholding of treatment will appear to future historians as medieval, like bloodletting,'' Clinton wrote in The New York Times.

Mandela said the fear and stigma associated with the disease was almost as damaging as the epidemic itself.

''Many who suffer from HIV and AIDS are not killed by the virus, but by stigma,'' Mandela said at a World AIDS Day appearance in the city of Bloemfontein.

''You have to sympathize with them. It is your duty to be human. Do not stigmatize people with AIDS. Show them care, support and, above all, love,'' Mandela said.
---
How can we manifest peace on earth if we do not include everyone (all races, all nations, all religions, both sexes) in our vision of Peace?
---
The WorldPeace Banner
To the John WorldPeace Galleries Page

To the WorldPeace Peace Page