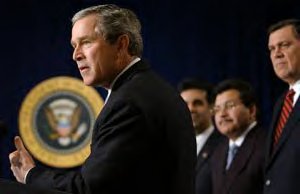 President Bush and his principal allies against Iraq on Friday arranged an emergency weekend summit to discuss their failure to achieve United Nations approval of a resolution authorizing war and to set a course toward imminent military action. (White House photo)...
---
Bush off to Iraq talks

Last gesture toward diplomacy comes as war preparations accelerate.

Karen Deyoung - Washington Post

Saturday, March 15, 2003

Washington --- President Bush and his principal allies against Iraq on Friday arranged an emergency weekend summit to discuss their failure to achieve United Nations approval of a resolution authorizing war and to set a course toward imminent military action.
The White House announced that Bush would travel Sunday to the Azores, the Portuguese island territory in the eastern Atlantic, to discuss "diplomatic options" with British Prime Minister Tony Blair and Spanish President Jose Maria Aznar.
But senior administration officials said the time for diplomacy had ended, and the meeting was arranged primarily to allow Bush and Blair to appear to be making a final effort at peace.
Officials said only two likely options remained, both of which would end in activation of the U.S. war plan. The first option is to submit the resolution to a U.N. Security Council vote, which it is certain to lose, and then proceed to war. The second, more likely, option is to withdraw the resolution introduced late last month and claim existing international legal authority to attack without new U.N. authorization.
"It's harder to proceed if you have a vote against you than if you have nothing," a senior U.S. official said. "For legal reasons, we're in the best position we can possibly be in right now."
Wrapping up other prewar issues, the White House complied with an earlier promise to Blair to announce the release of a "road map" to guide an Arab-Israeli peace process. Bush had been criticized by partners in a lengthy Mideast negotiating process, including the United Nations, the European Union and Russia, for holding up the document.
Bush's final go-ahead on Iraq, likely to come as early as next week, will mark an abrupt end to months of unsuccessful efforts to convince the international community that war against Iraq is both justified and urgent. Instead of the U.N.-sanctioned coalition that joined to drive Iraqi troops out of Kuwait in 1991, the United States will lead a "coalition of the willing" made up overwhelmingly of American forces and restricted in the extent to which it can use the territory and resources of other countries.
Some of those countries have given private assurances of assistance, and the administration Friday blamed its failure to win more widespread public backing, particularly in the Security Council, on the council's unwillingness to follow through on a pledge made last fall to take action if Iraq failed to comply with U.N. disarmament demands. Particular anger was directed at France, which threatened to veto what it sees as a premature recourse to the use of force.
"We've been at this a very long time, as an international community --- 12 years," since the United Nations first ordered Iraq to destroy all its weapons of mass destruction after the 1991 war, National Security Adviser Condoleezza Rice said Friday. "Sooner or later the United Nations Security Council has got to act or not act."
The administration clearly believes it must be sooner. Defense officials have said the more than 200,000 U.S. troops deployed to the Persian Gulf region could wait at least another month before having to attack, and a number of Security Council members said they believed a compromise involving a more extended deadline for Iraq was still possible. But diplomatic and political imperatives, and a belief that no concession would ever bring Security Council agreement, have led the administration to conclude that delay is no longer acceptable.
"It is time to come to a conclusion that says to [Iraqi President] Saddam Hussein, 'It is time for you to disarm or be disarmed,' " Rice said. "The moment of truth is coming here, and it's time for the co-sponsors to get together and discuss it."
But other Security Council members attributed the breakdown in U.N. negotiations to U.S. intransigence. "We have gone around and around here trying to organize some kind of reasonable piece of paper," said an exhausted ambassador from one of six uncommitted members whose votes both the United States and France were seeking. "But it is impossible."
It appeared unlikely that the Security Council would proceed with a presentation planned for early next week by chief U.N. weapons inspector Hans Blix, who has prepared a list of 12 key remaining disarmament tasks that could serve as benchmarks for judging Iraqi cooperation in turning over all chemical, biological and other prohibited weapons within a month or two. Under the surreal conditions that have prevailed at the United Nations in recent days, Blix has been developing the list, which was requested by the council a week ago, even as diplomatic efforts to agree on a way to proceed have fallen apart.
Events leading to Friday's rapid dissolving of compromise efforts began late last month, when Britain, along with the United States and Spain, introduced a resolution declaring that Baghdad had failed to meet demands set by the council last November for full and immediate disarmament. Diplomats from those countries, supported on the Security Council by Bulgaria, made clear that Iraq's opportunities to cooperate had expired and the resolution was to be interpreted as advance authorization for war.
Inspectors who began work in Iraq in late November reported partial progress, and three permanent Security Council members with veto power --- France, Russia and China --- said their efforts should continue. They were joined by nonpermanent members Germany and Syria.
---
How can we manifest peace on earth if we do not include everyone (all races, all nations, all religions, both sexes) in our vision of Peace?
---
The WorldPeace Banner
To the John WorldPeace Galleries Page

To the WorldPeace Peace Page