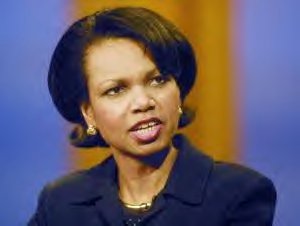 Washington Secretary of State Colin Powell thinks the United States might win a majority of votes this week in the United Nations Security Council for a US-backed final ultimatum to Saddam Hussein, but that the resolution still could be vetoed by France. (Getty Images)...
---
Posted on Mon, Mar. 10, 2003
Powell says U.S. prepared to invade if resolution fails
He reveals U.S. will invade Iraq soon if it doesn't disarm, regardless U.N. vote on ultimatum
By STEVEN THOMMA Knight Ridder Newspapers
Washington Secretary of State Colin Powell thinks the United States might win a majority of votes this week in the United Nations Security Council for a U.S.-backed final ultimatum to Saddam Hussein, but that the resolution still could be vetoed by France.
Powell Sunday did not identify any new council members that now intend to vote with America, and he made clear that with or without U.N. support, the United States intends to invade Iraq soon unless Saddam proves within days that he is disarming.
If a majority of council members endorse the attack, however, that would add the United Nations' moral legitimacy to the action and perhaps reduce resentment of it around the world.
"We will have to wait and see when the vote is taken sometime this week, but I am encouraged by the discussions I have been having with a number of members of the council," Powell said on NBC's "Meet the Press."
U.S. diplomats, speaking on condition of anonymity, said the United States would announce today that it would seek a council vote for Tuesday or Wednesday.
Key swing voters, such as Mexico and Pakistan, which want to come on board with the United States, are asking for a few extra days to negotiate a deadline for Saddam to disarm beyond the March 17 date proposed by Washington.
"I think most of the elected 10 members are making up their judgments, their minds over this weekend, and I've been in close contact with them," Powell said. "I'm encouraged we might get the nine or 10 votes needed to get passage of the resolution, and we'll see if somebody wants to veto."
The U.S.-British-Spanish-backed resolution would give Iraq until March 17 to disarm or face war. The United States needs nine votes from the 15-member Security Council, made up of five permanent members -- each with veto power -- and 10 elected members.
Three permanent members -- France, Russia, and China -- have vowed to block it. France, in particular, has taken the lead in opposing any step toward war.
"I would not be surprised if they vetoed," Powell said on Fox News. "It would be unfortunate if France decided to veto this resolution, and France would not be looked upon favorably in many parts."
The only other declared vote so far for the ultimatum comes from Bulgaria.
But President Bush, Powell and other top U.S. officials have been pressing the 10 elected council members to side with America, even as French President Jacques Chirac has tried to rally them against the resolution.
Some U.S. officials believe the French might be bluffing and would not want to be seen as blocking a measure with broad backing. There was also hope among administration officials that Russia might abstain rather than veto, isolating France as the only negative among the five veto-bearing members.
Administration officials have said they believe that even with a veto, a measure that has received nine votes might command moral legitimacy in the eyes of much of the world.
National security adviser Condoleezza Rice said Sunday on CBS's "Face the Nation" that "we've not really done a serious vote count at this point. We have some indications here and there."
The foreign minister of Guinea, a Security Council member, will meet with senior administration officials this week in Washington, Rice said.
"If the United Nations Security Council does act in a positive way, and we hope it will, then clearly military force will be appropriate and there will be support for that through the United Nations," Powell said. "If the United Nations Security Council fails to act, the president has always said he reserves his option" to act without U.N. backing.
If anything, U.N. rejection of a resolution giving Iraq until March 17 to disarm could accelerate war rather than delay it, Powell implied. Absent a formal ultimatum, the United States would be free to act before that date, he suggested.
After the U.N. vote, Bush intends to issue a public ultimatum to Saddam telling him to disarm or face invasion within days, according to senior administration officials. That Bush speech will be a warning as well to any arms inspectors or humanitarian aid workers inside Iraq that the time has come to leave.
Bush's somber mood was on display Saturday night when he attended the annual Gridiron Club satire staged by elite Washington newspaper editors and writers. Customarily, presidents deliver a humorous speech at the event, but Bush confined his remarks to a brief toast to the men and women in uniform, and their families.
Powell disputed that the United States is acting alone, noting support from nations including Australia, Bulgaria, Portugal, Spain, the United Kingdom, and the independent nations of the former Soviet Union.
"We need to knock down this notion that nobody is on our side, that we're totally isolated," he said on Fox. "So many nations recognize the danger, and they do it in the face of public opposition."
Indeed, British Prime Minister Tony Blair faces widespread revolt by members of his Labor Party if the United Nations rejects the resolution this week and he continues to stand with the United States in favor of invading Iraq, press reports said Sunday.
The Sunday Times of London and the Sunday Telegraph said five to 10 Labor members of Parliament were prepared to resign government jobs, and that as many as 200 of the party's 410 members of Parliament would vote against Blair if the U.N. resolution fails. Labor rebels were seeking a debate on the war and a vote before any military action begins, the newspaper said.
---
How can we manifest peace on earth if we do not include everyone (all races, all nations, all religions, both sexes) in our vision of Peace?
---
The WorldPeace Banner
To the John WorldPeace Galleries Page

To the WorldPeace Peace Page