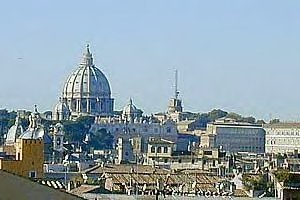 By Jeremy Lovell LONDON (Reuters) - High church and top pop have come out for peace in a rare alliance as the US-driven momentum for war in Iraq grows daily stronger(WN photo)...
---
21 Feb 2003 04:10 GMT

Church and the stars reach for peace

By Jeremy Lovell

LONDON (Reuters) - High church and top pop have come out for peace in a rare alliance as the U.S.-driven momentum for war in Iraq grows daily stronger. Archbishop of Canterbury Rowan Williams -- the head of 70 million Anglicans worldwide -- and Cardinal Cormac Murphy-O'Connor -- leader of English and Welsh Roman Catholics -- combined to condemn the looming war. Hours later and less than a week after millions of people across the globe took to the streets to march against military action to oust Iraqi President Saddam Hussein, pop stars added their voices to those of religious leaders to plead for peace. "I don't want to see the children die no more so I gotta make a stand," R&B sensation Ms Dynamite said as she landed two coveted Brit music awards --the altar of British pop culture -- on Thursday. Chris Martin, lead singer of Coldplay, echoed the anti-war theme at the unusually sober event in London. "All awards are essentially nonsense and we are all going to die when George Bush has his way," he said. The appeals for peace came as the United States and Britain poured thousands of troops, heavy armour and battleships into the Gulf region and followed condemnation of the rush to war by the leaders of the country's two leading churches. "War is always a deeply disturbing prospect -- one that can never be contemplated without a sense of failure and regret that other means have not prevailed," Williams and Murphy-O'Connor said in a rare joint statement on Wednesday. "We recognise that the moral alternative to military action cannot be inaction, passivity, appeasement or indifference. "It is vital therefore that all sides in this crisis engage, through the United Nations -- fully and urgently -- in a process, including continued weapons inspections, that could and should render the trauma and tragedy of war unnecessary." Their joint warning was echoed by Prince Turki Al-Faisal, former spymaster and Saudi Arabia's new ambassador to Britain. "Whether this war will prevent terrorism or not, I don't think it will. This war...will increase terrorism worldwide," he told Channel 4 News. TIME RUNNING OUT The hawkish stance of U.S President George W. Bush and Prime Minister Tony Blair has met heavy criticism from fellow permanent U.N. Security Council members France, Russia and China which each have the right of veto. Blair is to address parliament on Tuesday about the Iraq crisis which has severely strained relations between the U.S. and the European Union and exposed deep divisions within NATO, the transatlantic military alliance. But U.S. Secretary of State Colin Powell insisted that Iraq retained illegal weapons of mass destruction and warned that time to come clean was running short. "Clearly time is running out. We cannot just allow this matter to drive along," he told BBC television's Newsnight programme. "The simple reality is that the case is clear. Iraq has weapons of mass destruction," Powell said. "The evidence is clear. The evidence has been there for the past 11 to 12 years, and the United Nations must not step back from its responsibilities."
---
Politicians beating path to Vatican on Iraq war

Frank Bruni/NYT The New York Times

ROME - Two weeks ago, it was Joschka Fischer, the German foreign minister. Last week, it was Tariq Aziz, the deputy prime minister of Iraq. This coming weekend, if he keeps to his planned schedule, it will be Tony Blair, the British prime minister.

As the prospect of an American-led military strike against Iraq looms ever larger, world leaders are beating an increasingly well-worn path to Pope John Paul II's door to talk about the wisdom of, and rationale for, war. In the process, they are turning Vatican City into a kind of diplomatic station of the cross and demonstrating a faith, or at least hope, in the power of the pope to sway international opinion and the power of a visit with him to reflect well on their own positions. "We are witnessing the latest and greatest global debate in a long time on what would and would not be a just war," said Michael Emerson, a senior research fellow at the Center for European Policy Studies in Brussels. "So the moral authority of the pope is being solicited by both sides," Emerson said. The pope has repeatedly stated his opposition to a war in Iraq under current circumstances, and his conversations with world leaders, including a meeting here earlier this week with the UN secretary-general, Kofi Annan, allow him to press his case. But while the world leaders themselves usually request these meetings, often when they are here on other business, the Vatican has its own interests, from a commitment to peace to the protection of Catholic and Christian minorities in predominantly Muslim countries, including Iraq. The meetings themselves are intensely private: none of the participants ever reveals enough to make clear precisely what the pope says. But Vatican City serves as a dramatic and singular stage for the officials who travel there. Western diplomats assigned to the Vatican say that leaders who meet with the pope are clearly seeking to cast their concerns and deliberations in a high-minded light. "The pope is such a respected figure, with such great moral authority and prestige, that for anyone to come and visit him gives them a lot of illumination and, in some cases, for those who need it, legitimacy," said R. James Nicholson, the American ambassador to the Holy See. Aziz held a news conference after he saw the pope, making prominent mention of that meeting. Fischer, too, spoke to reporters following his visit, saying that he and the pope had a "very serious and very open talk" about the consequences of a war in Iraq, which Germany opposes. "With our deep worries and our deep skepticism, we are very close," Fischer said, referring to German and Vatican officials. Blair finds himself at odds with the Vatican about the justification for a military strike on Iraq. But foreign policy experts and diplomats said that with a visit to the pope, scheduled for Saturday, Blair would send a message that he is not dodging moral considerations in coming to a belief about the possible need for military action. Blair, a devout Christian whose wife is Roman Catholic, has repeatedly talked about the moral case for a war. While President George W. Bush has not sought an audience with the pope, Nicholson last week arranged a visit to the Vatican and a public speech here by Michael Novak, a conservative American theologian who maintains that a war would be morally defensible. The series of meetings between world leaders and the pope show that he is not just the titular leader of an estimated one billion Catholics worldwide. He remains, in Western democracies, a religious leader with unrivaled visibility and recognition: a point of reference in debates with clear moral dimensions. The meetings also show the depths of the Vatican's objections to war in Iraq, and are only part of its diplomatic efforts, which included a recent trip by a papal envoy to Baghdad. In many countries, bishops and priests have echoed the pope's expressions of opposition to a war, although church experts and Vatican officials said it was not a coordinated campaign. Vatican officials, diplomats and church experts said that the Vatican's concerns go beyond a frequently stated conviction that, in the case of Iraq, attempts at a peaceful resolution have not been exhausted. Vatican officials are worried about the impact of a war in Iraq on relations between Christians and Muslims, a matter that the pope himself mentioned during brief public remarks Thursday. "They really don't want Christian martyrs," said one Western diplomat assigned to the Vatican, who spoke on condition of anonymity. For example, the diplomat said, "There's a huge Christian minority in Pakistan that could be at risk." The Reverend Drew Christiansen, former director of the U.S. Conference of Catholic Bishops' Office of International Justice and Peace, said that the pope and Vatican officials were also looking beyond current events and trying to lay down certain ideological and moral markers. "It's a rejection of the underlying rationale for war as preventive," Father Christiansen said. Vatican officials conceded that, in the end, they might not be able to influence what the United States and its allies do. But they said that they nonetheless saw themselves playing a crucial and special role in the debate, a perspective that the visits of world leaders at least partly affirm. "There is an advantage for the Holy See in that it is not aligned," said Archbishop Michael Fitzgerald, head of the Pontifical Council for Interreligious Dialogue. "It is not part of any bloc. It is not a member of NATO." "So its interest," Archbishop Fitzgerald said, "is on behalf of humanity."
---
How can we manifest peace on earth if we do not include everyone (all races, all nations, all religions, both sexes) in our vision of Peace?
---
The WorldPeace Banner
To the John WorldPeace Galleries Page

To the WorldPeace Peace Page