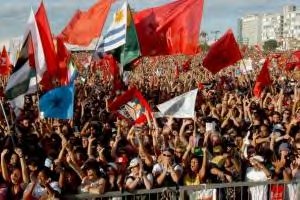 The nearest thing to a people's United Nations, the World Social Forum (WSF), opened yesterday in the southern Brazilian city of Porto Alegre. For four days the city, whose participatory method of administration has made it the United Nations' model of good government, will be host to more than 100,000 activists for peace and social justice(Andre Felipe/Getty Images)...
---
'People's UN' marches to beat of new drum

Anti-capitalist activists gather in Brazil as prospect of war gives fresh impetus to search for alternatives

Hilary Wainwright in Porto Alegre
Saturday January 25, 2003
The Guardian

The nearest thing to a people's United Nations, the World Social Forum (WSF), opened yesterday in the southern Brazilian city of Porto Alegre.

For four days the city, whose participatory method of administration has made it the United Nations' model of good government, will be host to more than 100,000 activists for peace and social justice.

The first WSF in 2000 was the brainchild of organisations involved in the anti-capitalist protests of the late 90s; they wanted to develop alternative ways of living.

"Protests are not enough," said Walden Bello, an academic from the Philippines and leading critic of the World Trade Organisation.

The event is held at the same time as the business-led World Economic Forum in Davos, Switzerland, in order to draw attention to the idea that, in the words of the WSF logo, another world is possible.

The choice of Porto Alegre was symbolic too. For 15 years the city's governing Workers party - which now rules Brazil through the leftwing President Luis Inacio Lula da Silva - has been deciding the budget through a process of popular participation, redistributing wealth, reducing poverty and eliminating corruption as a result.

It is the wholehearted involvement of the city administration in the running of the WSF that makes such an extraordinary event possible. The existence of a working experiment in Porto Alegre makes it highly practical for the discussion of participatory democracy, which is - along with social economics and alternatives to war - the main theme of the forum.

"I come to the forum to exchange experiences of democracy," says Alvaro Portillo, who was previously mayor of Montevideo in Uruguay.

The prospect of war has given an added sense of urgency to the search for alternatives.

A sign of this is the growth in participation from the US. In the first two years only a few academics and non-governmental organisations managed to find the funds to travel to Brazil. This year the US has one of the largest non-Latin American delegations, with nearly 2,000 attendees.

"If we are to end war, we need a new kind of globalisation, based on democracy and social justice," says Fred Ascate of the US group Jobs For Justice, which links community and trade union campaigns.

Porto Alegre is bursting at the seams. Every conceivable public space is occupied. Empty warehouses in the dockyards now resound to discussions of subjects such as empire, war and unilateralism, resistance to militarisation and debate on whether the World Trade Organisation can be reformed.

Some of the speakers are well known: Noam Chomsky, Arundhati Roy and Tariq Ali are there, as is the Brazilian president. The embattled leader of Venezuela, Hugo Chavez, will address the event.

But it is no longer solely the big names that draw thousands of people to the forum. "Initially celebrities helped to give the event its legitimacy; now everybody recognises the WSF as the space for global alternatives," Luciano Brunet, one of the organisers, says. "It has a life of its own."

The diversity of the WSF, a hallmark of each of the last three years' events, illustrates that the left may at last have retained the tension of a good debate without the fractious infighting of old.

One of the most central of these debates is the relationship between civil society and political power. President Da Silva, now the embodiment of political power in Brazil, regards this gathering of civil society as an important ally.

After making his speech to the WSF, he is going to its business counterpart in Switzerland. "I will be taking the message of Porto Alegre to Davos," he said. "I will be saying the same thing as I say here. There will not be two faces. I will tell Davos that their economic policies are making a terrible mistake."



---
Globalisation foes welcome Brazil's new president

SATURDAY, JANUARY 25, 2003 11:36:54 AM

PORTO ALEGRE, Brazil: Anti-globalisation protesters greeted Brazil's new leftist president like a rock star at the World Social Forum Friday, cheering the one-time revolutionary as one of their own.

President Luiz Inacio Lula da Silva told a crowd of tens of thousands that he will fight Brazil's grinding poverty and rampant corruption, oppose war and urge rich nations to help bring the Third World out of misery.

"I want to tell the world 'what a wonderful world it would be if instead of producing and spending money on so many arms they would spend it buying bread, beans and rice to kill the hunger of the people,"' the son of a poor farmer said to thunderous applause.

Activists waving bright red flags reacted like fans at a soccer match, chanting "Lula! Lula!" - as Silva is popularly known.

Silva's spoke after having breakfast with the socialist mayor of Porto Alegre and holding an afternoon meeting with former Portuguese President Mario Soares, founder of Portugal's socialist party.

Soares said Silva, who has made fighting hunger in Brazil his top priority, is "real proof that there can be social participation in government."

Hundreds of Brazilians and foreigners attending the six-day forum chanted "Lula! Our President!" when Silva visited Porto Alegre's state government palace earlier Friday.

"There's never been a president of Brazil who's been a laborer," said Emilio Penna, a 26-year-old Uruguayan university student. "Politics have always been in the hands of the rich."

Speaking from a concert stage where Brazilian pop stars play after each day of the weeklong social forum, Silva also defended his decision to fly to Switzerland to attend the World Economic Forum in Switzerland.

The social forum is the simultaneous counterpoint to the gathering this week of the world's economic movers and shakers at the alpine ski resort of Davos. Although Silva angered some of the 100,000 participating anti-globalisation activists by deciding to attend, he told the crowd he would give the rich and powerful an earful.

"Many people in Davos don't like me and don't want to meet me," he said. "I want to make a point of going to Davos and saying to them that it is not possible to have an economic model where a few people eat five times a day and many people go five days without eating."

Silva dropped out of school to help support his family and became a symbol of hope for Latin America's impoverished millions after his landslide election in October.

He also embodies the type of success that his supporters say makes him a perfect fit at the World Social Forum, where activists are attending more than 1,700 sessions and workshops on topics ranging from corporate misdeeds to Third World debt.

In an indirect reference to a possible US-led war against Iraq, Silva told forum organizers he is against war to resolve international conflicts, according to foreign relations adviser Marco Aurelio Garcia.

Later, in his speech, Silva said it makes no sense for countries to spend billions of dollars on war while millions of children don't get enough to eat. Without naming the United States, he criticized the US economic embargo against Cuba. Silva counts Cuban leader Fidel Castro as a friend.

Although he told activists he isn't beholden to international financiers who play a large part in determining the future of Brazil's troubled economy, Silva has named fiscal moderates to his economic team.

They have pleased investors by taking pains to stress that Brazil won't adopt unconventional fiscal policies.
---
How can we manifest peace on earth if we do not include everyone (all races, all nations, all religions, both sexes) in our vision of Peace?
---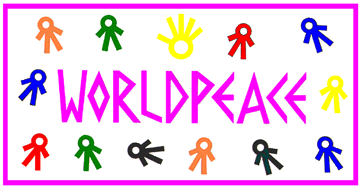 The WorldPeace Banner
To the John WorldPeace Galleries Page

To the WorldPeace Peace Page